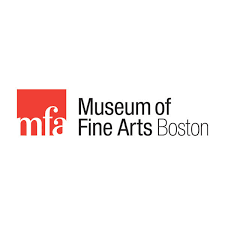 Museum of Fine Arts Boston
A Note from Betty Saltzman
Hello to all , on this very cold day, it is time again to sign up for our new joint presentation to ALDA and HLAA members, from Museum of Fine Arts staff and resources.  Thinking about all the enjoyment that has been brought to us by these programs, over the years, warms me up!
The date for the program this month is Saturday, February 20,  2021 and will be on zoom, at 10:30am. The subject of this  month's MFA presentation, as developed by Karen Moss, our program's leader, is as follows.
Ancient Americas: Mexico to Chile
The Ancient Americas collections represent the artistic creativity of many cultures from Mexico to Chile prior to European contact in the late 15th century. The collection is noteworthy for its impressive holdings of Classic Maya earthenware, gold artifacts from South America and for its outstanding ancient Andean textiles which display some of the world's most complex dyeing and weaving techniques.

Please join us on Sat February 20th to explore these unique objects.
There will be a sign up for this zoom meeting that is open to all members, their friends and family and is held  from 2/1 to 2/12. After that date enrollment will be closed. To sign up please email Ronit Minchom at Rminchom@mfa.org.  If you have any additional questions please email me at betty.saltzman@gmail.com. I look forward to seeing you on this date. Our next program is planned for April 17 and will be about  Native American Art;  more information will follow.
Stay warm and get vaccinated if you can.  Regards Betty Saltzman
-----------------------------------------------------------------
ALDA BOSTON BOOK CLUB
CALLING ALL BOOK FANS!
DATE:        March 20, 2021
TIME:        1:30 - 3:30 PM
TITLE:       INTERFERENCE
by Brad Parks
Please RSVP to aldabostonma@gmail.com to sign up.